In the ever-growing world of online entrepreneurship, it's challenging to sort through the noise and find credible instructors with genuine success strategies. Enter Jeff Lerner – an entrepreneur, online business coach, and founder of Entre Institute.
With a history that includes overcoming personal challenges and transforming his financial situation from crushing debt to remarkable wealth, Jeff's story is undoubtedly inspiring.
But what about his courses? Are they worth investing in? In this comprehensive review, we'll examine the man behind the brand, unpack his various training programs, and address any controversies surrounding him so you can make an informed decision on whether or not to follow his teachings.
Who Is Jeff Lerner?
Jeff Lerner is a successful entrepreneur and online business coach.
Jeff Lerner's journey into entrepreneurship began with humble beginnings as a jazz musician. Facing limited financial resources and piling debt, his career took an unexpected turn when he discovered the world of online business.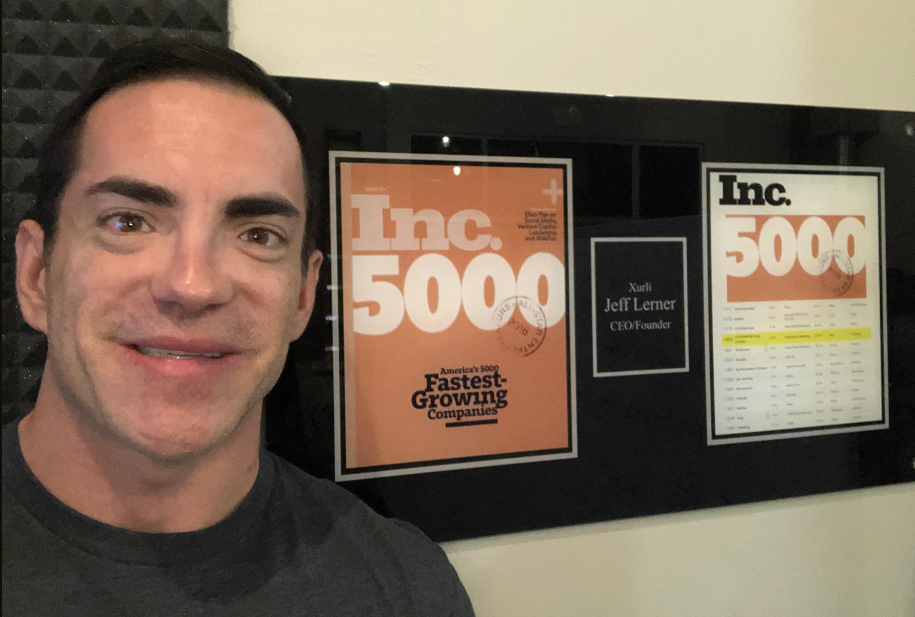 His rags-to-riches story is nothing short of inspiring – overcoming depression, a wrist injury, eviction, and divorce while battling a colossal $495,000 debt.
Today, Jeff Lerner is known for founding the Entre Institute which offers courses on multiple topics related to entrepreneurship.
With numerous success stories under his belt and clients achieving fantastic results through his programs, he has established himself in the online business coaching industry.
One of his most significant accomplishments is the creation of the ENTRE Blueprint course, which has helped numerous clients achieve outstanding results in various niches.
Throughout his career, Jeff Lerner has consistently shared valuable knowledge and experience with others through his videos focused on entrepreneurship, digital marketing, personal development, and much more.
Online Marketing
Jeff Lerner spent ten years learning how to build an online business.
He worked his way to generating 8-figure returns, which enabled him to pay off his debts in 18 months. He appeared twice on the INC 5000, a nod to his remarkable journey from rags to riches.
Following his success, he decided to start his coaching programs teaching people how to launch online businesses. In 2018, he founded ENTRE Institute.
Speaking Engagements and A Book
Jeff Lerner has had over 50,000 students learn their entrepreneurship skills and make money online under his stewardship.
Owing to his success as a mentor, he regularly hosts speaking events while working as the CEO of the ENTRE Institute.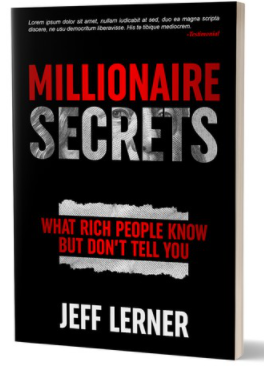 As I write this, he is working on a book titled Millionaire Secrets: Things Rich People Know But Don't Tell You (it may be ready by the time you read this).
We cannot tell what lessons he will include but we can reasonably predict that it is based on improving productivity to help entrepreneurs maximize their time and achieve their goals.
It will draw on Jeff's own experiences and the strategies that he has used to build his own successful businesses.
Podcast and YouTube
Jeff Lerner runs a podcast on his YouTube channel called Jeff Lerner. Jeff Lerner's YouTube channel has been growing steadily and now has over 87K subscribers.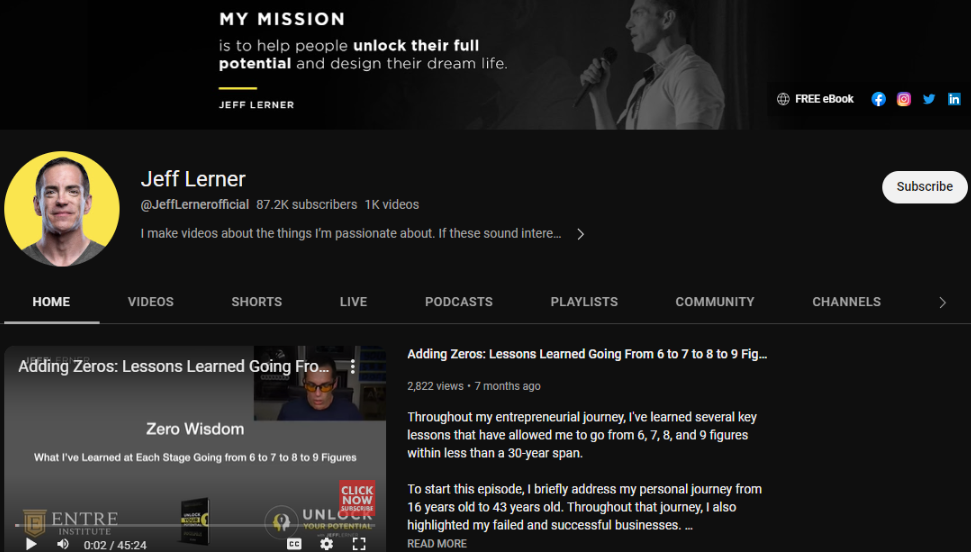 He interviews successful people such as celebrities, scientists, entrepreneurs, athletes, and artists. Here is a sampling of the interviews he has done over the past few months.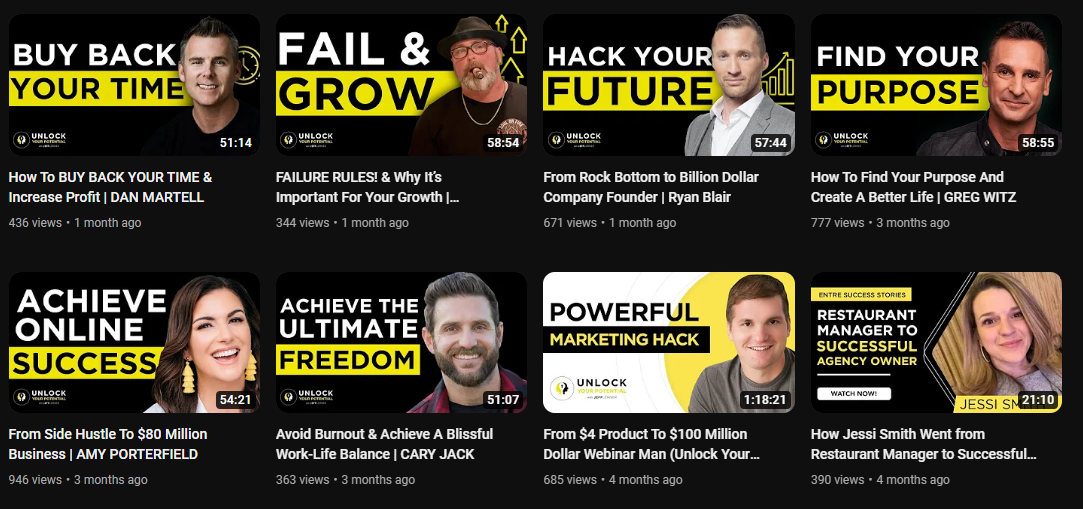 He claims that his motivation for interviewing successful people is to help people find inspiration by showing them how those successful people think and operate.
Jeff Lerner's Net Worth?
Jeff Lerner's net worth is hard to figure out because there isn't enough verifiable information we could find online about his personal fortune.
He claims on his website that he has earned $100 million in online revenue but that's not personal net worth, which is the figure we are interested in.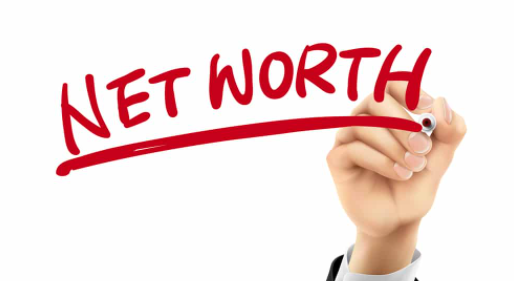 What we know is that in 2018, he was filing for bankruptcy and lived in his ex-wife's parent's guest bedroom with debt amounting to $500,000. He had not tasted success yet.
Jeff Learner pulled himself by the bootstraps and is no longer in debt.
He cracked it and started making money online. He reveals that at one point, he earned $40,000 in commissions in a single month.
The number rose to $70,000 and by the end of the year, he was the #3 affiliate marketer out of over 40,000 students in his affiliate program.
We also know that Jeff Lerner is a successful entrepreneur, affiliate marketer, and business coach who has been in the online business education industry for over a decade.
Jeff Lerner attributes his success to his core values of hard work, dedication, and providing practical advice to his clients.
He is a member of the Forbes Business Council and has been featured in publications like Entrepreneur, Inc., and Forbes.
As for his net worth, we cannot definitively give you a figure but you can tell that he is thriving.
Jeff Lerner Training Programs And Courses
In the realm of online business education, Jeff Lerner's offerings stand out as comprehensive and varied. His courses cater to different niches, such as affiliate marketing, local lead generation, digital agency creation, and overall entrepreneurial growth.
He offers them through the Entre Institute.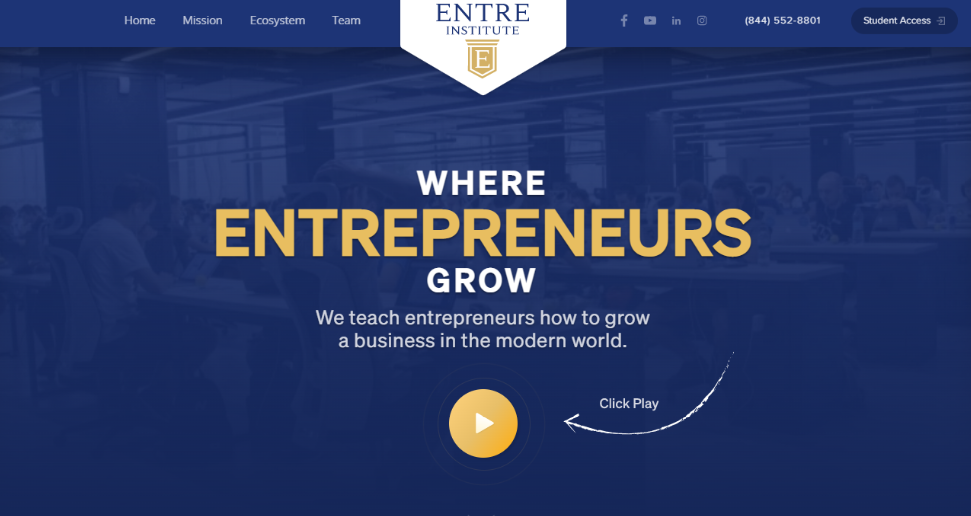 His education platform, Entre Institute, provides guidance across various niches including digital marketing and affiliate marketing for beginners.
One of Jeff Lerner's programs is the Affiliate Business Accelerator, which is designed to help people start and grow their own affiliate marketing businesses. The program includes training on how to choose profitable niches, how to find and promote affiliate products, and how to build a successful affiliate marketing website.
The most popular program is the ENTRE Blueprint, which we will closely examine later.
In addition to his training programs, Jeff Lerner offers a number of other resources for entrepreneurs, including his Implementation Bootcamp, which is a live event designed to help entrepreneurs implement the strategies they've learned in his courses.
Jeff Lerner's programs are known for their high-quality training and support, and many people have found success using his methods. However, it's important to note that success in online business requires hard work and dedication, and there are no guarantees of success.
Each course has its pros and cons. For example, the Entre Blueprint teaches every aspect of running an online business from scratch; however, some may find the content overwhelming due to its broad coverage that may be spread too thin.
Despite criticism regarding cost or perceived lack of detail in certain modules or programs offered by Jeff Lerner, many people claim to have benefited from following his teachings' actionable advice provided throughout their journeys.
Jeff Lerner claims that his programs are rooted in real-life experiences and actionable advice from successful entrepreneurs like himself. For example, they address essential aspects of digital marketing while sharing practical tips on generating cash flow through various business models.
Entre Institute offers a platform and resources for entrepreneurs in various niches and covers all aspects of digital marketing, including affiliate marketing, social media advertising, copywriting, and more.
What is The Entre Institute?
The Entre Institute is an online education platform founded by Jeff Lerner, offering courses in various niches such as digital marketing, e-commerce, and affiliate marketing.
The institute has a vast library of educational resources that cater to both beginners and experienced entrepreneurs. It has three key elements:
An ecosystem: Jeff has created a holistic 'all in one' solution for entrepreneurs who want to start successful businesses by providing the resources they need to hit their goals.
Lessons taught by entrepreneurs with successful businesses: Jeff hires coaches who have real-world experience running businesses, they only allow real entrepreneurs who have built a successful business.
They develop all-rounded Students: According to Jeff, you need more than just a successful business. The training is all about improving all areas of life (Personal, Physical, and Professional). It borders on a motivational course.
Many customers have praised the Entre Institute for providing practical advice that can be applied immediately in their businesses. The institute also gives you access to a supportive community of like-minded individuals through its Entre Nation Elite membership program.
Pricing
Here's a detailed breakdown:
Entre Blueprint: A one-time fee of $39
Entre Digital: A fee of $1,997
Entre Nation Elite: $348 per year
Entre Results: $15,000 per year
Entre Inner Circle: $29,997 per year
"Millionaire Productivity Secrets" for $67
Jeff Lerner has a money-back guarantee. For example, An ENTRE Blueprint subscription comes with a 30-day money-back guarantee: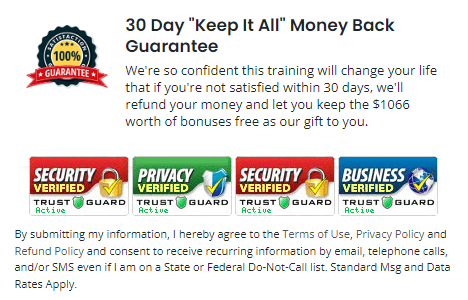 Before you sign up for any course or buy anything from Jeff, we strongly recommend you read the refund policy.
It is a relatively short document and you will be glad to read it should you decide you want to cancel down the line.
The ENTRE Institute Affiliate Program
ENTRE has an affiliate program by which you can earn money for marketing the platform.
You can join the affiliate program for free through a private invitation.
You will earn commissions that range from 30-80% (although these rates can change at any time).
ENTRE Institute Reviews
ENTRE Institute has a rating of 4.7 out of 5 on Trustpilot where it has more than 700 reviews:

Some examples of positive reviews: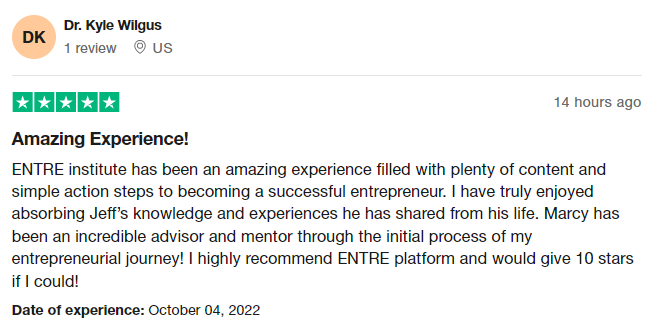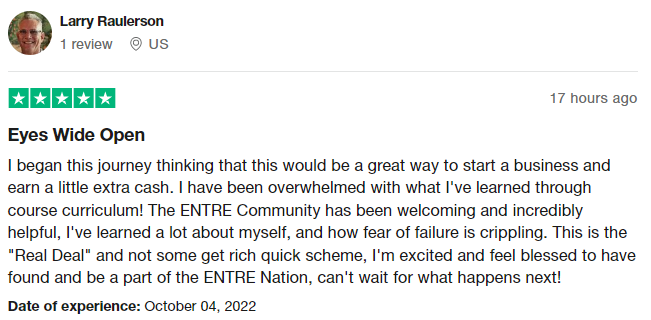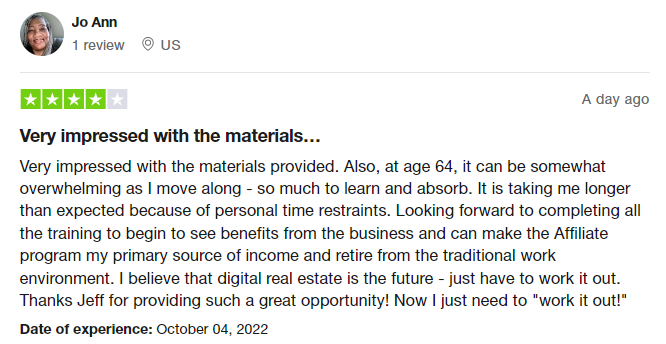 Is ENTRE Institute Legit?
Jeff Lerner's ENTRE Institute is legit. It is a platform that offers genuine courses and what you pay is what you get.
Whether it works for you is a whole different thing because your success will be determined by your initiative and hard work.
This is what Jeff Lerner does a poor job putting across as he markets his course. He dwells on success stories that are mostly the exception, thus many people join with a false impression of how likely they are to succeed.
If you go into it with misplaced expectations because the video you watched made it look easy, you will be disappointed.
Starting a successful online business is incredibly tough but possible. You need to invest money and time to get going.
What is ENTRE Blueprint?
Jeff Lerner's ENTRE Blueprint is a video training course on starting an online business by Jeff Lerner.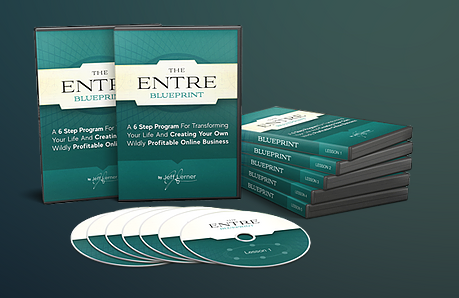 The ENTRE Blueprint combines tactical training on what Jeff considers the 3 most lucrative online business models. It is also infused with Jeff's "awesome life" philosophy which is based on psychology, economics, life coaching, and personal development.
Jeff teaches you how to implement his business models online and get the right mindset for success.
The ENTRE Blueprint provides a one-on-one Advisor to assist each student.
Based on our observations it is one of those online training programs that teach you how to set up an online business that doesn't require much capital (but if you have the capital, they can work too).
ENTRE Blueprint is for anyone irrespective of experience or a lack of marketing skills (but we found that having some experience works in your favor).
You do not need to have technical skills or prior business experience to follow this training program. That's because the ENTRE Blueprint instructs you on how to get started from scratch.
One of the key aspects of Jeff Lerner's approach to online business is his emphasis on choosing the right business model. He believes that the right business model is essential for success and that entrepreneurs should carefully consider their options before deciding on a model.
In addition to choosing the right business model, Jeff Lerner also stresses the importance of digital marketing. He teaches his students how to use various digital marketing channels to reach their target audience and promote their products or services.
Some of the digital marketing strategies that Jeff Lerner teaches include search engine optimization (SEO), social media marketing, email marketing, and paid advertising. He believes that a well-rounded digital marketing strategy is essential for success in the online business world.
Finally, Jeff Lerner also emphasizes the importance of using the right software and tools to build and grow an online business. He recommends software programs and tools that can help entrepreneurs automate their businesses, manage their finances, and streamline their operations.
Overall, Jeff Lerner's approach to online business is based on a combination of choosing the right business model, using effective digital marketing strategies, and leveraging the right software and tools.
By leveraging the affiliate marketing training, entrepreneurs can increase their chances of success and achieve their goals in the online business world.
ENTRE Blueprint Modules
The program is divided into six modules:
Step 1: The "3 Ps" Of An Awesome Life
In this first module, you learn how to take care of three areas of life: personal, professional, and physical.
Step 2: 3 Legs Of Successful Action
In the second step, you learn the three things you need to start taking successful action, which are Community, Strategy, and Belief.
Step 3: The 3 Phases of Building Your Legacy
You learn about Leverage, Growth, and Wealth.
Step 4: Affiliate Marketing – The Lazy Person's Online Business Model
Jeff walks you through how affiliate marketing works. He reveals a formula that enables you to earn commissions from your affiliate marketing business. Good marketing skills are needed to make this work.
Step 5: e-Commerce: High-Profit Stores Without Brick And Mortar Headache
Jeff talks about the benefits of running an online business (eCommerce) and explains why an online business is more profitable than a physical store.
Step 6: Digital Consulting: Converting Online Skills Into Predictable, Bankable, & Sellable Cash Flow
In this final module, you learn how to set up a Digital Consulting Agency and how to earn passive income.
ENTRE Blueprint Bonuses
ENTRE Blueprint teaches you how to start an affiliate marketing business.
There are some limited-time bonuses:
1-on-1 Business Advisor: ENTRE business advisors share their real-life experiences with you. They are selected based on their success in running an internet business and their experience in helping others.
Awesome Life Challenge: You explore Jeff's secrets to transform different aspects of your life; personal, professional, and physical.
Access to the ENTRE Nation Community: You get support from the ENTRE Nation Community which comprises a network of entrepreneurs and students.
Drawbacks of ENTRE Blueprint
You Need Working Capital
You will not be relying on organic traffic, which means you need to invest in adverts.
Jeff teaches paid advertising and you need to pay for things like Clickfunnels ($97), Clickmagic ($27), and Getresponse ($15)
There are Many Upsells
When you buy ENTRE Blueprint, Jeff starts promoting other products. If you are starting your online business from scratch and would like to succeed, you may have to buy the other courses and those cost more money.
The Training is not Detailed enough
Some people have argued that most of the content that you pay for when you buy the ENTRE Blueprint can be found online for free.
ENTRE Blueprint is not in-depth training about building an online business. The breakdown of the business models is quite brief.
Jeff Lerner spreads it thin
Although he is a successful marketer, he does not specialize in one of the many facets of online marketing. He offers many online courses that teach different things. You need to find other sources of learning material.
Misleading Marketing Tactics
The sales pitch focuses on the fact that people are making a lot of money and it can give you the impression that succeeding is relatively easy, which is it. That's because Jeff focuses on exceptional performers. In reality, you may not make a lot of money.
Is ENTRE Blueprint Legit?
ENTRE Blueprint is a legit online training program but it is not necessarily the best program you can find. It has been called an MLM scheme but it is not objectively one because it offers actual training.
Freedom Business Formula
The program is relatively new and it is focused on expanding your sources of revenue online. It comes with a free ebook: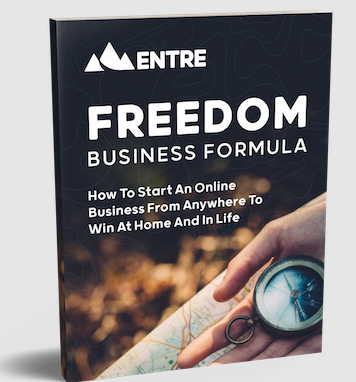 Jeff Lerner offers training in digital real estate.
This program teaches students how to build and monetize websites that generate passive income.
The program covers topics such as keyword research, website design, content creation, and SEO. The digital real estate program is for those who want to build a long-term, sustainable online business.
Jeff Lerner's online business education also includes training in creating and selling online courses. This program teaches students how to create and market their own online courses. The program covers topics such as course creation, marketing, and sales funnels. The online course creation program is for those who want to monetize their knowledge and expertise.
Overall, Jeff Lerner's online business education provides comprehensive training in various aspects of online business.
Jeff claims that with his expertise and guidance, you can build a successful online business and achieve financial freedom.
Jeff Lerner Criticisms and Controversies
Despite the success stories, there have been negative reviews and accusations against Jeff Lerner. Some online comments suggest that his courses are overpriced and do not provide value for money.
Jeff has also been accused by individuals who claim that his courses are overhyped and misleading.
However, it's important to note that many of these criticisms lack evidence or details of specific incidents. Additionally, Jeff Lerner has been transparent about addressing these concerns in public forums and on social media platforms.
He has provided clarifications and responses to allegations, demonstrating his willingness to engage with customers who may have had less-than-positive experiences with his business coaching programs.
For instance, Jeff explains that while success is not guaranteed with any course, Entre Blueprint provides clients with actionable advice and strategies that have helped many individuals achieve financial prosperity through digital real estate investment or affiliate marketing.
Additionally, he highlights that entrepreneurship requires hard work, dedication, and persistence – traits he continually emphasizes throughout his coaching.
Is Jeff Lerner Legit?
Jeff Lerner is legit.
After analyzing Jeff Lerner's background, success stories, and training programs, and addressing controversies surrounding his legitimacy as an online business educator, it is safe to conclude that Jeff Lerner is a legitimate entrepreneur and coach.
Although he talks a big game, he has provided valuable insights concerning building a successful online business.
Jeff Lerner's courses offer a wealth of knowledge and practical advice for those looking to start an online business.
He covers many niches, including affiliate marketing and digital real estate, enabling clients to choose a course that aligns with their interests.
His detractors claim that his training programs are expensive and may not offer value. Some have complained that these courses are too advanced or overhyped for beginners starting an online business journey who are less skilled or experienced.
Having said that, there are pros and cons associated with Jeff Lerner's courses and entrepreneurship programs like any other products designed for consumers. But overall it could be said that they are legitimate options worth considering if you're eager to embark on your journey towards financial freedom through building successful businesses online.
Final Verdict
After thorough research and analysis of Jeff Lerner's background, training programs, and customer reviews, it is safe to conclude that he is a legitimate online business educator.
Jeff Lerner has an inspiring story of overcoming adversity and using his knowledge to help others achieve success in the digital world.
However, despite the criticisms against him, we couldn't find reports of lawsuits or legal actions taken against Jeff Lerner or his courses. Furthermore, many successful entrepreneurs credit Jeff Lerner for providing valuable insights that helped them launch or scale their businesses.
Jeff Lerner is a well-known entrepreneur and online business coach. He has received mixed reviews from his clients and critics alike. Some people praise him for his expertise and guidance, while others criticize him for his marketing tactics and high fees.
Those who have had a positive experience with Jeff Lerner's coaching programs have reported significant growth in their online businesses. They appreciate the personalized attention and support they receive from Jeff and his team. They also find his training materials to be comprehensive and easy to follow.
On the other hand, some people have criticized Jeff Lerner's coaching program for being too expensive. They argue that his fees are not justified by the value of his services. Others have accused him of using misleading marketing tactics to attract clients.
Despite the negative reviews, Jeff Lerner has maintained a strong reputation in the online business community. He has helped numerous entrepreneurs achieve success in their ventures, and his expertise is widely respected.
In conclusion, Jeff Lerner's coaching program has received both positive and negative reviews. While some people have found his services to be invaluable, others have criticized him for his marketing tactics and high fees. Ultimately, it is up to each individual to decide whether Jeff Lerner's coaching program is right for them.